Reminder for tonight! In lieu of honking, we ask that you tune your radios to 92.7 where Jace Edwards will be playing the Lowry Fight Song. Roll your windows down and turn your speakers up. PLEASE stay in your vehicles to adhere to social distancing guidelines! "Be the Light and Never Ever Give up on Your Dreams" campaign. We will turn our LHS Football Field Lights on for 20 minutes on April 17, 2020 at 8:20 PM (military time 2020) in support of our 2020 Senior Class, spring sport athletes, coaches, staff, families, and all those on the front lines fighting this invisible enemy.

Let's get Humboldt County's percentage up!! Have you seen the Guinn Center for Policy Priorities's 2020 Census tracker?
https://guinncenter.shinyapps.io/2020Census/
How does your county response rate compare? Let's encourage our network to complete the census, and break 50% this week! Complete your census today: 🖥
http://census.nv.gov
☎️ (844) 330.2020 Follow NVCensus2020 for the latest updates.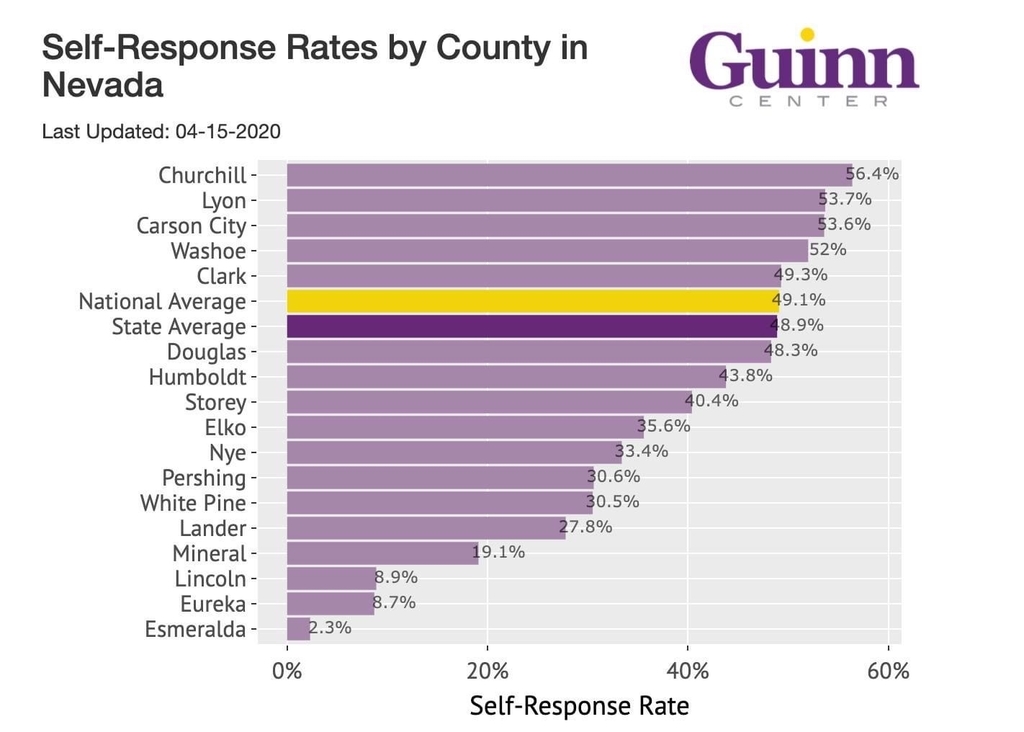 Do you know someone with behaviors that make it difficult to participate in school, family life, work, or community activities? PBS Nevada's "Addressing Challenging Behavior" Workshop is designed to help you in the following areas: * Define and understand the cause of problem behavior. * Identify strategies to decrease problem behavior, improving quality of life. * Teach appropriate behaviors, which enhance quality of life. * Improve the quality of life so that person can be a part of yours. "Our goal is to give you the skills needed to help these individuals and families improve their quality of life." DATES: Thursday's April 16th, 23rd, 30th, and May 7th, 2020 *THIS IS A 4 SESSION WORKSHOP. YOU MUST PLAN TO ATTEND ALL 4 SESSIONS* *Each session builds on the previous session – you must plan to attend ALL sessions.* *Individual Consultations per session TIME: 5:30 p.m. to 8:00 p.m. LOCATION: Online (zoom link to join the class will be sent out the night before - April 15th) FEES: FREE Sign up at
https://events.unr.edu/event/positive_behavior_support_-_nevada_pbs-nv_virtual_webinar_addressing_challenging_behavior
CONTACT: If you have any questions or concerns, please contact Christine O'Flaherty
christineo@unr.edu
or
jadge@unr.edu
Jessica Adge

NEVADA MATTERS. BE COUNTED. Completing your census now means you will not have a federal census worker come to your door in June. 42.8% of Humboldt County households have completed the census 47.8% of Nevada households have completed the census Please SHARE and TAG a few friends below to encourage them to complete their census. Leave a comment if you filled out the census, are going to fill it out, or have questions about it! The census is important, safe and easy. Nevada will earn $20,000 in federal funding over the next ten years for every person who is counted. Responses can only be used for statistical purposes and the questions asked regard basic demographic information. You will not be asked about your finances, social security number, or citizenship status. It takes less than ten minutes, is about ten questions, and you will make an impact for ten years! Complete your census online ([census.nv.gov](
http://census.nv.gov/)
) or by phone (English: (844) 330.2020; Spanish:(844) 468.2020) today! You DO NOT need a unique census ID to complete the census. Follow @NVCensus2020 for the latest updates!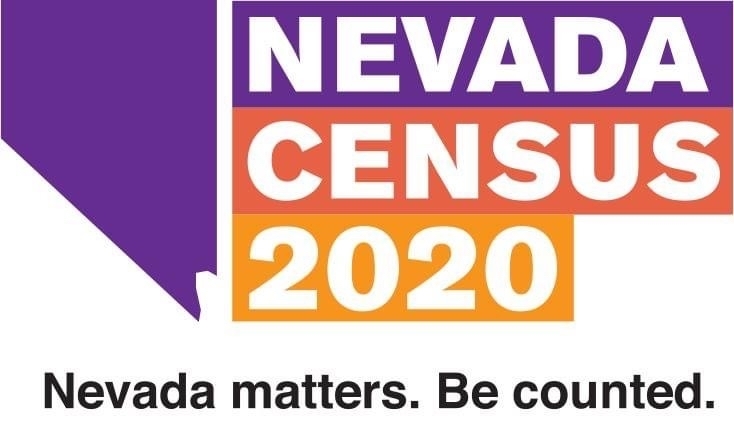 Lowry High School of Winnemucca, NV is calling upon other Nevada High Schools to participate in the "Be the Light and Never Ever Give up on Your Dreams" campaign. We will turn our LHS Football Field Lights on for 20 minutes on April 17, 2020 at 8:20 PM in support of our 2020 Senior Class, spring sport athletes, coaches, staff, families, and all those on the front lines fighting this invisible enemy. We are inviting our community to drive by and honk in support. PLEASE stay in your vehicles to adhere to social distancing guidelines.

Website update: We have a new button with drop down options at the top of our website for easy access to resources during the school closure as well as our new counselor's corner for K-6th and 7th-12th grades. The pages will be updated frequently. We hope you find these helpful.
https://www.hcsdnv.com/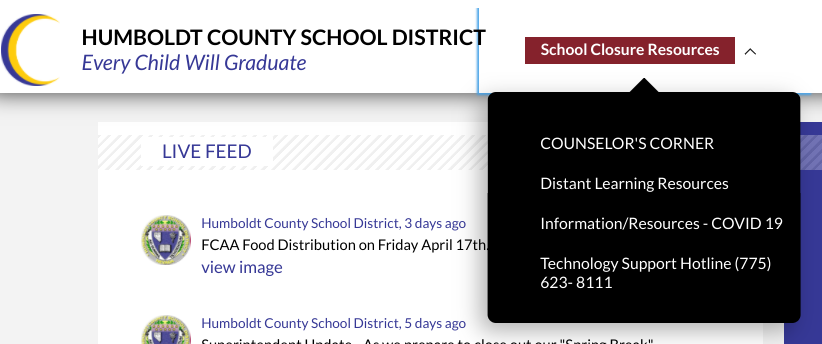 FCAA Food Distribution on Friday April 17th.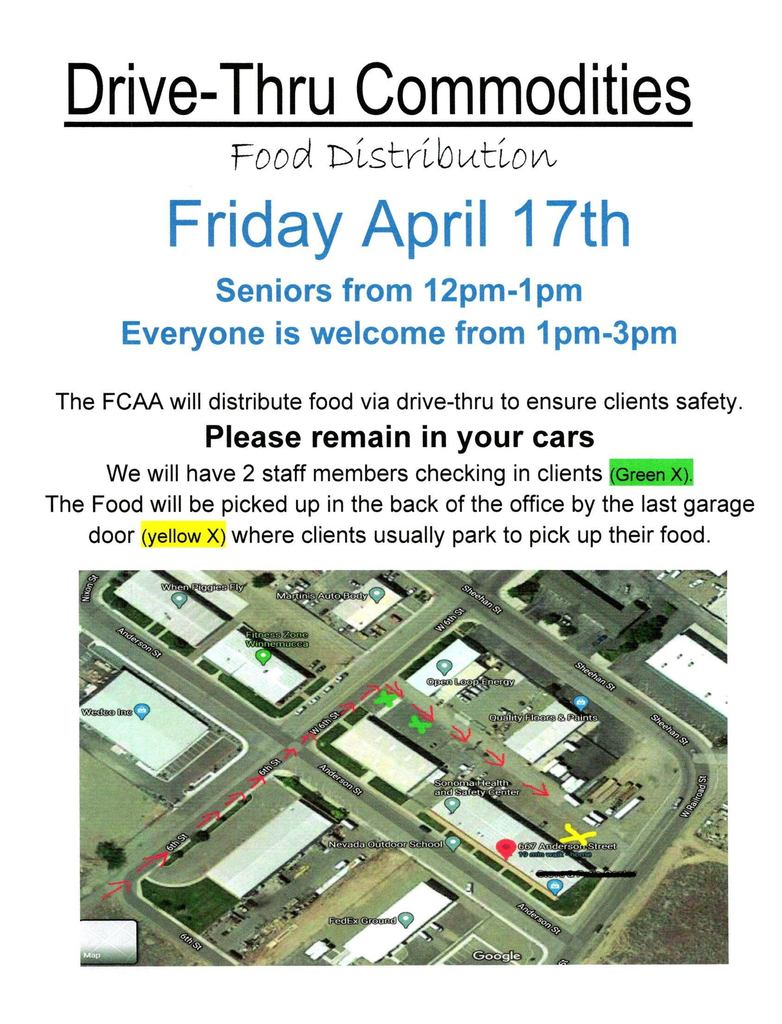 Updated Superintendents Message - As we start our "Spring Break," it is a opportune time to provide a quick update for our staff and community. As we all have discovered, we are in a unique situation that is causing each of us to rethink education and social interactions. To this extent, the district has implemented Distance Learning which allows our schools and staff to support our student population, while allowing the days to be counted for instruction so that we will not need to make up the days. Our staff, both certified and classified, continue to work under their administrators direction to support students, allowing the district to meet our obligations to each of our employees. During spring break, while we ask our employees and students to take a little down time, a number of efforts continue to be engaged at the district level. Our engagement with the Nevada Department of Education continues, with requests for key pieces of information: 1) when will we know regarding a potential extension of school closure; 2) what guidance is available as we look to ensure all students continue to move forward academically, and ensuring our seniors are not negatively impacted; 3) what will teacher evaluations look like under our new reality, etc. How fortunate we are to be in this community. Our staff are dedicated to the success of your children, and stand ready and willing to support you. As your teachers continue to reach out and contact you, please take advantage of the support that they can provide. They are eager to help. As we restart Distance Learning on April 6th, we will be implementing strategic changes regarding packet distribution to ensure the protection of our staff and our community. Please keep an eye out for more information on this later this week. Our meal service continues over spring break, and we have added one additional stop at Artemesia and 95. Please share this information. Though we are in difficult circumstances, we will overcome this challenge. We look forward to throwing open the doors of our schools and welcoming you and your children back into the classroom. Whether soon or later, we will be here to serve you. Please take care of yourselves, your families and each other. Thanks to each of you for making a difference in the lives of our children. Sincerely, Dr. David Jensen

SPRING BREAK MEAL SERVICE UPDATE - Meal pickups beginning March 23rd will be from 11:30am to 12:30pm. Parents must have a child with them in order to receive meals. If there is an issue with this or you are having someone else pick up meals for your family please call Laura Jensen at 623-8109 so that we can verify which students are receiving meals and at what site you will be using. Drive up pick up sites include: Albert Lowry High School- in the bus lane Winnemucca Grammar school- in front of the school Grass Valley Elementary- in the bus lane Dutchman Acres - fire department Maverick by the post office- dirt parking lot Pioneer Park- by the restrooms Paradise Ranchos- at the end of the road on 95 Golconda firehouse If you live in a rural area of Humboldt County including Denio, Paradise Valley, Kings River and Orovada and you have not been contacted about meal service, please call Laura at 623-8109 and we will get you set up with the closest school to your home.

All schools will be closed to the public starting tomorrow March 27th as we close out the first week of distance learning. Meal service will continue tomorrow and over spring break. School staff will continue to be accessible though email tomorrow then will begin a well deserved spring break until April 6th, at which time we will continue distance learning until cleared to reopen our schools. Thanks to each of you as we entered new educational opportunities this week! Please share and stay safe.

23.7% of Nevadans have completed their census and 19.2% of Humboldt County residents have! Please SHARE this message and COMMENT below if you have completed your census. Thank you to everyone who has completed their census and to the coalition of community leaders and organizations who have helped promote its importance. It's on all of us to work towards a complete and accurate count! There is still work to be done. Over 80% of our community still needs to be counted. Nevada will earn about $20,000 in federal funding over the next ten years for every person counted in the census. This funding helps pay for education, affordable housing, healthcare and infrastructure in OUR city and county. The census is an official population count of everyone living in the United States and its territories. It occurs every ten years and determines federal funding, political representation, and more! Nevadans will be able to complete the census online (census.nv.gov), by phone (1-844-330-2020), or in the mail in about ten minutes. The census is important, safe and easy. 💰 Nevada will earn about $20,000 in federal funding over the next ten years for every person counted in the census. This funding helps pay for education, affordable housing, healthcare and infrastructure in YOUR city and county. 🔒 The census is safe. Federal law prohibits the Census Bureau from using the information for anything but statistical purposes; responses cannot be shared with anyone including the Federal Bureau of Investigation (FBI), Immigration and Customs Enforcement (ICE), or landlords. ✅ The census is easy. It takes about ten minutes, is about ten questions, and makes an impact for ten years. The questions asked regard basic demographics including your name, how many people live with you, gender, and ethnicity. The census will not ask for your Social Security Number or Bank Information. Those who complete their census by May will not be visited at home by a Federal Census worker. Nevada Matters. Be Counted. Thank you! Complete your census today!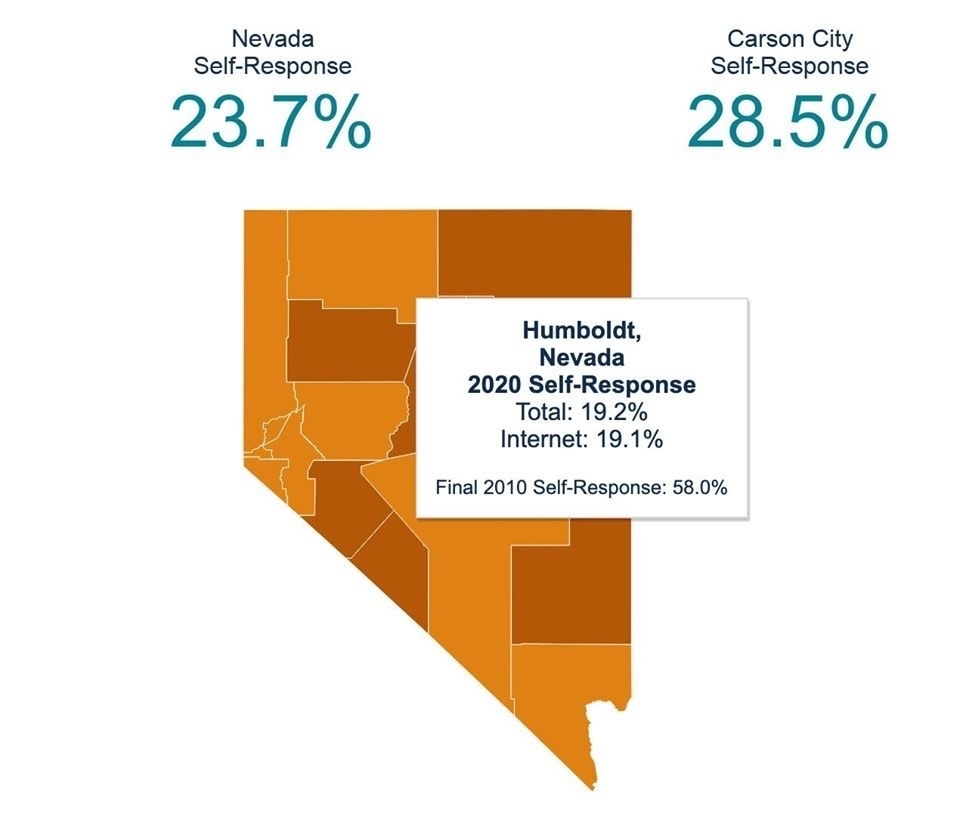 Parents: Please utilize our website for updates, information, and resources for teaching at home. As well as login information and troubleshooting suggestions.
https://www.hcsdnv.com/o/hcsd/page/information-resources--4
Important! Meal delivery services: Starting Monday 3/30 - meals will be available at designated locations from 11:30 a.m. - 12:30 p.m.

Superintendent Update - Over the past several days, information has been shared regarding the extended school closure through at least April 16th, 2020. Even prior to announcing this extended closure, staff began to prepare for this likelihood to ensure students are supported. Outside of our regularly scheduled Spring Break (Monday March 30 - Friday April 3) our program of "Distance Learning" will be in place and will count as days of instruction. As such, and in order to avoid an extended school calendar, schools sites and teachers will be reaching out to you and your child(ren) to provide access to curricular materials and to provide academic supports to you. This communication is essential, and we ask that you and your children respond to staff regularly as we support continued academic growth. This communication, under Distance Learning, will allow students to be counted for attendance purposes and to meet the school year requirements (180 day calendar requirement). Instruction will be available through Distance Education (on-line), Blended Learning (on-line and hard copy), or Hard Copy materials for those without internet capabilities. As noted earlier, your individual school sites will be in contact to ensure that you and your child(ren) are provided with access to various academic materials and are available to support you during this difficult time. We would encourage parents to maintain a routine with your children, and encourage and support their academic endeavors. Our staff will continue to work during this time and are available to provide you with any supports you need. For the parents of Seniors, please know that we are very attuned to the concern that you and your children must be feeling about graduation. I have engaged with the State Department, and our high school principals are assessing the needs of each student. For those that are on track (credits and grades) we will ensure there are no barriers. For students that are credit deficient or need to make up courses, please work with your schools who will do all they can to support you. For as long as we remain in school closure, we will continue to provide meal service as was implemented this past week. We will also continue this service over spring break to support our students, families and community. We are so fortunate to have the outstanding staff we have in Humboldt County School District. Each staff member cares about your children, and are prepared to provide all the supports possible. As you engage with various staff members, please thank them for their service! Your kind support means a great deal to our staff. These are certainly difficult times, however, I am confident that we will come out of this challenge better as a result. I want to thank each of you for your kindness and support. The number of community members asking for ways to volunteer, provide materials, support staff and students, provides a clear reminder of how lucky we are to be in Humboldt County. My best wishes to each of you during this trying time. Dr. David Jensen Superintendent

Governor Sisolak announces that all schools will open no sooner than April 16th. - Governor Sisolak announced additional measures to support students, staff and families during the current COVID-19 outbreak. As a result, he has directed that all schools will continue to provide "Distance Learning" through at least April 16th. Our administrative team, along with their individual staffs, have been working hard to support students and families during this time frame. Please watch for information from your individual schools and for updates on our Facebook Page.

Please utilize our website's "school closure" page for information, resources, school site hours, and updates. This page is continuously evolving so check back often. Thank you again for your patience and understanding while our district is continuing to work hard for all of our students and families.
https://www.hcsdnv.com/o/hcsd/page/information-resources--4

"We have a say in Nevada's healthcare, education, roads, and public safety. Fill out your #NevadaCensus now at census.nv.gov because our future COUNTS on us." #NevadaMatters #BeCountedNV

Coping with the unknown in unprecedented events like we are experiencing right now with the COVID-19 outbreak can cause significant distress. Taking care of your mental health is just as important as taking care of your physical health. Thankfully, there are many resources to give students and parents guidance in doing this. Please see below for a list of some of the resources available: Online Resources: 1. Mental Health and Coping During COVID-19: Centers for Disease Control
https://www.cdc.gov/coronavirus/2019-ncov/prepare/managing-stress-anxiety.html?CDC_AA_refVal=https%3A%2F%2Fwww.cdc.gov%2Fcoronavirus%2F2019-ncov%2Fabout%2Fcoping.html
2. Anxiety and Depression Association of America-Reviewed Mental Health Apps:
https://adaa.org/finding-help/mobile-apps
3. PBIS: Teaching Coping Skills Resources
https://www.pbisworld.com/tier-1/teach-coping-skills/
4. Youtube: There are many videos available to help teach and guide calm down strategies, coping skills, and mindfulness. Mental Health Hotlines and Crisis Supports: 1. Substance Abuse and Mental Health Services Administration's (SAMHSA) Disaster Distress Hotline: 1-800-985-5990 or text TalkWithUs to 66746 (TTY 1-800-846-8517) 2. Crisis Call Center of Nevada (it doesn't necessarily need to be a crisis to reach out): 1-800-273-8255 or text Listen to 839863 3. National Suicide Prevention Lifeline: 1-800-273-8255 4. 24/7 Rural Nevada Mobile Crisis Team: 702-486-7865 5. If in need of immediate crisis assistance, call 911

Meal Service Announced - Effective tomorrow, Tuesday March 17, 2020, HCSD will be providing lunch and breakfast for students in our community from ages 0-18. These meals meet Federal School Lunch requirements. At each pick up, a lunch for the day, and breakfast for the next morning will be provided. We will need to have at least one child present to pick up the meals for the children at your home. Service will be provided from 11 am to 12:30 pm, and is a pick up service only. Food will be offered at the following locations: Grass Valley Bus Lane (pull in and pick up) Lowry High School Bus Lane (pull in and pick up) Winnemucca Grammar School (pick up at back of school on Aitken Street) In addition, we will have meal service at key locations: - Dutchman Acres Fire House - Golconda Firehouse - Dirt lot next to the Maverick across from the Post Office - McDermitt - Paradise Ranchos (95) - Pioneer Park - Sawtooth in Orovada Meals will be provided each school day through March 27th. At this time, no meals are available over Spring Break and school is scheduled to resume on April 6th. For any questions, please reach out to our HCSD Nutrition Services at 775-623-8109. Please share!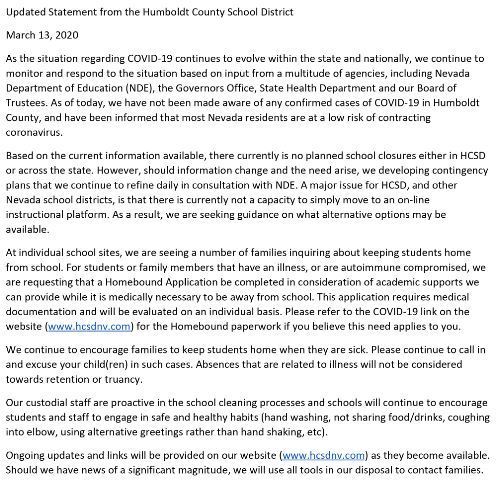 Reminder of the play "Aladdin" at Lowry High School tonight and tomorrow. Come support our students and their hard work while enjoying a nice family night out.